2022 SOSI Center Summer Institute Application Invitation
The Louis Stokes Regional Center of Excellence for the Study of STEM Interventions (SOSI Center) invites you to apply for the 2022 SOSI Center Summer Institute to be held June 26-28. While the previous virtual SOSI Institute focused on introducing asset based theoretical frames, this year's in-person SOSI Institute themed: Translating Critical, Strengths-Based Conceptual Frameworks to STEM Programming & Design: Exploring Theory to Practice and Practice to Theory, will elaborate on the practical application of those frameworks to support the grant writing process, publishing work on enhancing STEM inclusion, and STEM related program design.
The goal of the Institute is to provide an engaging and interactive platform designed to result in a pragmatic product. To that end, the structure of the Institute will be both large group presentations and discussions as well as small working groups. For more information, please visit the SOSI Center Website: https://diversity.missouri.edu/program/lsrce-sosi-institute/
As part of SOSI's commitment to providing equitable space, participants will receive:
Hotel accommodations from June 26 – 29, 2022
Meals

Dinner Sunday June 26 and Monday 27, 2022
Breakfasts provided by the hotel.
Lunch on June 27 and 28, 2022
Snacks during the sessions

Opportunity to apply for a partial travel award up to $200.
Please complete the SOSI Center Institute application (2022 Summer Institute application) by May 25, 2022. Application review will occur on a continual basis. Applicants will be notified of acceptance by May 28, 2022. If accepted, please respond with your intent to participate and all additional information requests by June 3, 2022. Please contact Michael Garcia ([email protected]), SOSI Center Program Director, if you have any questions. We look forward to your application.
Sincerely,
SOSI Center Leadership Team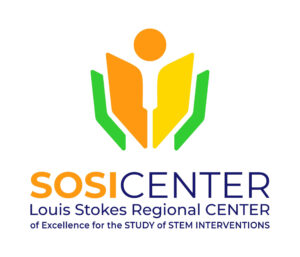 Housed at the University of Missouri-Columbia (MU), the Louis Stokes Regional Center of Excellence for the Study of STEM Interventions (SOSI Center) is a newly awarded NSF initiative which supports an inter-institutional collaboration between MU, Understanding Interventions that Broaden Participation in Science (UI), and the University of Michigan. The SOSI Center focuses on cultivating the cultural awareness and scholarly productivity of future and existing STEM training program leaders by providing venues for training and development related to critical, strengths-based theories and evidence-based practices. These concepts focus on facilitating underrepresented students' success in STEM through:
exploration of mechanisms that center students' identities, cultures, and experiences, in meaningful ways, within STEM programming, teaching, mentoring, and research;
implementation of research guided by identity-focused, and social-cognitive theoretical frameworks;
methodologies relevant to developing critical scholarly contributions to inform practice and scholarship development and dissemination.
Overview of the SOSI Center Institute
Although there has been growth in recent years in the dissemination of evidence-based practices related to STEM training, practitioners, often trained in the basic sciences, have found the need for training in the relevant social and behavioral sciences not only for implementation but for the generation of scholarship in a translational context, useful for dissemination and adoption.
Michael Garcia, PhD
SOSI Center Program Director
Associate Professor of Biological Sciences
University of Missouri-Columbia

[email protected]
NaTashua Davis, PhD
SOSI Center Principal Investigator
Associate Vice Chancellor, Access and Leadership Development
Division of Inclusion, Diversity & Equity
University of Missouri-Columbia

[email protected]
Terrell Morton, PhD
SOSI Center Co-Principal Investigator
Assistant Professor of Identity and Justice in STEM Education
University of Missouri-Columbia

[email protected]
Natalie Downer, PhD
SOSI Center Co-Principal Investigator
MO LSAMP MU Site Coordinator
Associate Director, McNair Scholars Program
University of Missouri-Columbia

[email protected]
Anthony DePass, PhD
SOSI Center Program Co-Director
Director, Understanding Interventions that Broaden Participation in Science
President, DePass Academic Consulting

[email protected]
Shanta Outlaw, MS
Program Manager, Understanding Interventions Conference and Programs
University of Texas
Health Science Center at San Antonio

[email protected]
Angela Ebreo, PhD
Associate Director of the Diversity Research & Policy Program (DRPP)
University of Michigan

[email protected]
Mohammadali (Al) Dabiri
SOSI Center Coordinator
University of Missouri-Columbia
Doctoral Candidate of Educational Leadership & Policy Analysis

[email protected]
Glenn Gilyot
Web Designer
Doctoral Candidate of Organic Chemistry
University of Missouri

[email protected]