2021 Understanding Interventions Conference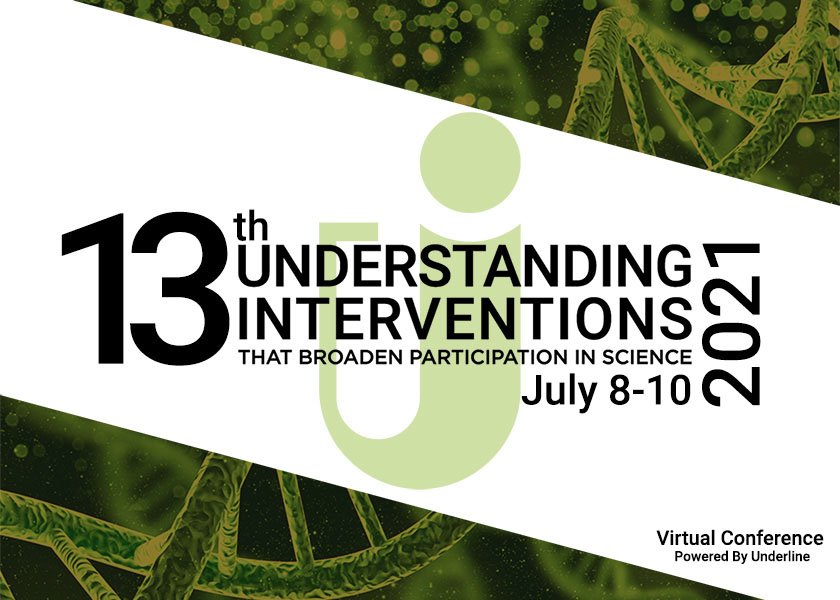 Plan to attend the
13th Conference on Understanding Interventions that Broaden Participation in Science Careers
July 8-10, 2021
UI is excited to announce the rescheduled
13th Annual Conference on Understanding Interventions
taking place July 8-10, 2021!
Join more than 6,000 researchers, program officers, evaluators, program directors, training faculty, and others within STEM.
Inform scholarship and practice, develop and enhance the community interested in educational interventions, and provide professional development for all STEM persons.

Experience plenaries, workshops, symposia, and poster presentations on hypothesis-based research on interventions and initiatives that broaden participation in STEM careers.

Facilitate the dialogue among education, behavioral, and social science researchers, evaluators, and faculty in STEM fields who participate in intervention programs.
Graduate students in these fields are strongly encouraged to attend.
Donate to Understanding Interventions
Your donation provides fundamental support for the Annual Understanding Interventions Conference, and for related professional development and training opportunities.
Understanding Interventions, Inc. is a qualified 501 (c) (3) charitable organization and donations are tax deductible to the fullest extent of the law. No goods or services were provided in exchange for this in-kind contribution. For additional information on tax deductibility, including how to determine the value of in-kind contributions, please consult your tax advisor and/or IRS.

Frequently Asked Questions
Where is the 2021 Conference? Are rooms available?
Understanding Interventions | Admin
2021-06-09T14:35:49-04:00
There will be no in-person conference this year. 
UI held its first Virtual conference in December of 2020 in response to Covid-19 restrictions.  The virtual conference introduced a format that provided pre conference availability of symposia, Deeper Dives and Poster presentations.
The 13th Annual Understanding Interventions Conference will continue with that design and we foresee future conferences adopting aspects of that format in reaching a virtual audience as well as those who attend the conferences in-person.
Latest From Community News & Announcements
Understanding Interventions | Admin
The Annual Biomedical Research Conference for Minority Students (ABRCMS) is one of the largest communities of underrepresented minorities in science, technology, engineering and mathematics. Students attend this conference to present their research, enhance professional development [...]
Understanding Interventions | Admin
Virtual Workshop October 21-23, 2021 Join us for the fall dissemination workshop that supports the publication of outcomes that showcase broadening participation efforts that cultivate STEM talent at HBCUs, HSIs, Tribal Colleges, MSIs, and small [...]
STEM PhD Program Completion Rates
Science Technology Engineering Mathematics
African Americans and Latinos that leave the STEM PhD program before completion
Median time in months to complete STEM PhD for African Americans who had a prior degree
African Americans increase enrollment in STEM PhD program; large racial gap remains
African Americans and Latinos complete the STEM PHD program within 7 years