2020 Understanding Interventions Conference
Plan to attend the
12th Conference on Understanding Interventions that Broaden Participation in Science Careers
March 13-15, 2020
March 11, 2020
Dear UI Community and Conference Registrants,
As of our last update sent on March 9, 2020, Understanding Interventions had 20 percent attrition and over 70 percent of our room block at the Sheraton Gunter Hotel. Yesterday, major developments in relation to the escalation of public health concerns accompanied major cancellations that included our plenary speakers and a significant portion of existing presenters and registrants. Additionally, just today, the World Health Organization (WHO) has declared the coronavirus outbreak a pandemic. It is therefore, with regret, that we must cancel the 12thUI Conference scheduled March 13-15, 2020 at the Sheraton Gunter Hotel in San Antonio, Texas.
For those who have cancelled prior to this notice, we have processed your requests with fee according to our stated policies. For all remaining registrants, you will have a choice of cancellation with fee to cover registration expenses, or have the full fee put towards registration for our next conference. Please respond to Shanta Outlaw, UI Program Manager at info@understanding-interventions.org with your decision.
In the meantime, we will be inviting all presenting authors to place their papers in a special edition of the UI Journal. We are also in the process of establishing an online platform that will allow virtual dissemination of workshops and research symposia. All accepted abstracts will be invited and scheduled for presentation once the platform has been established.
We would like to express our sincere gratitude to the UI community for your support through this challenging time. We are optimistic about the opportunity to transform the 2020 UI Conference into an innovative mechanism for the dissemination of training and scholarship on a more regular basis, as we build a more dynamic, inclusive, accessible, affordable, and sustainable community that will continue to mutually inform practice and scholarship in broadening participation.
Make sure to register up for our mailing list on the UI website to be notified of our future events.
Sincerely,
Anthony L. DePass and Daryl E. Chubin, Understanding Interventions Co-Chairs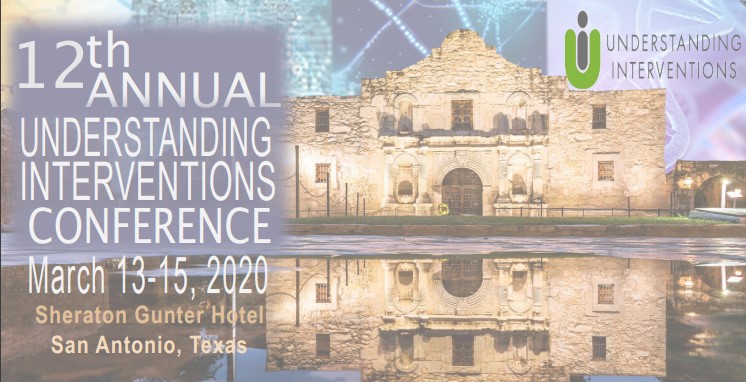 This conference was established to facilitate dissemination and exchange of hypothesis-based research on interventions and initiatives that broaden participation in science and engineering research careers. The conference is designed to create a dialogue among behavioral/social science and education researchers, evaluators, and faculty in STEM (science, technology, engineering, and mathematics) fields who participate in intervention programs. Graduate students in these fields are strongly encouraged to attend. Workshops, sessions, and posters will communicate effective strategies from successful STEM intervention programs, present results from empirical research studies, and synthesize the translation of research findings into practice on STEM learning, undergraduate research, graduate education, and student retention.
A limited number of plenary sessions addressing broad and large-scale contextual issues.
Symposia and workshops organized by tracks of interest.
Workshops lasting from 1.5 to 3 hours and providing hands-on instructional interactive sessions, either in one session or split into two over the course of the conference.
Symposia feature 2-3 person panel presentations. These symposia may feature one speaker for an hour or several presenters of research on a particular topic/segment of the education pathway.
Deeper Dives are 10-minute presentation followed by 5 minutes of Q&A. A maximum of three are presented during each session. Then each speaker moves to a roundtable discussion with interested audience members for another 40+ minutes of intense interaction.
Donate to Understanding Interventions
Your donation provides fundamental support for the Annual Understanding Interventions Conference, and for related professional development and training opportunities.
Understanding Interventions, Inc. is a qualified 501 (c) (3) charitable organization and donations are tax deductible to the fullest extent of the law. No goods or services were provided in exchange for this in-kind contribution. For additional information on tax deductibility, including how to determine the value of in-kind contributions, please consult your tax advisor and/or IRS.
Keeping Up and Connecting with UI

Frequently Asked Questions
Latest From Community News & Announcements
Understanding Interventions | Admin
Experience a unique meeting for microbiology, biology, and bioinformatics educators in Tysons, VA, August 1–4, 2019. At ASM Conference for Undergraduate Educators (ASMCUE) attendees gain classroom strategies, hear biology education research updates, and learn from scientific speakers. [...]
Understanding Interventions | Admin
The Accelerating Systemic Change Network (ASCN) invites you to join us for the 2019 Transforming Institutions Conference, which will be held in Pittsburgh, PA, April 3-5, 2019. We will bring together researchers, faculty, change agents, [...]
STEM PhD Program Completion Rates
Science Technology Engineering Mathematics
African Americans and Latinos that leave the STEM PhD program before completion
African Americans and Latinos complete the STEM PHD program within 7 years
Median time in months to complete STEM PhD for African Americans whose parents completed college
Median time in months to complete STEM PhD for African Americans whose parents didn't complete college